Post by WriYe on Dec 20, 2020 20:59:17 GMT -5
Challenges

What is a Challenge?:
Challenges are what I like to think of as very extended / lax word wars. You - alongside everyone else who signs up for the challenge - set a personalized goal for the time frame and other requirements indicated at the top of the challenge. You will then have until the end of the challenge to meet your pre-established goals. These challenges don't have to be just word count based, either. Say you want to write 3k and clean your desk out during the weekend a challenge is posted. Say so! We'll cheer you on to clean out that desk just as much as we will for the 3k!
The time limit is shared by everyone in the challenge - however, it goes by your local clock to prevent confusion and having extra work to do figuring out the time zones [with very few exceptions that will be noted in the individual challenge's thread].
You are allowed to change your goal for the challenge in either direction, up until the challenge actually starts. Once things have begun, you're stuck with whatever you declared in the thread. Signing up late / right at the end isn't okay either. That just looks like you weren't sure you'd be able to do it, so you waited until you won to do it. You're never penalized for not making your goal, so go ahead and sign up anyway!
How to Add Yourself to a Challenge (a visual guide):

If you find one of our challenges appealing and want to officially join in, we have the guidelines of quote the last post, remove the quote tags, and add yourself alphabetically. That's been our holdover since before ProBoards had a more user-friendly interface, and now that the default doesn't show the BBCode, I have come to realize it might be a little more confusing for new members (or returning members)!

So here is something that I thought might help out:
Step 1. Scroll to the bottom of the thread that you wish to add yourself on to (and make sure you're on the last page as well!). Find the "Quote" button as displayed below: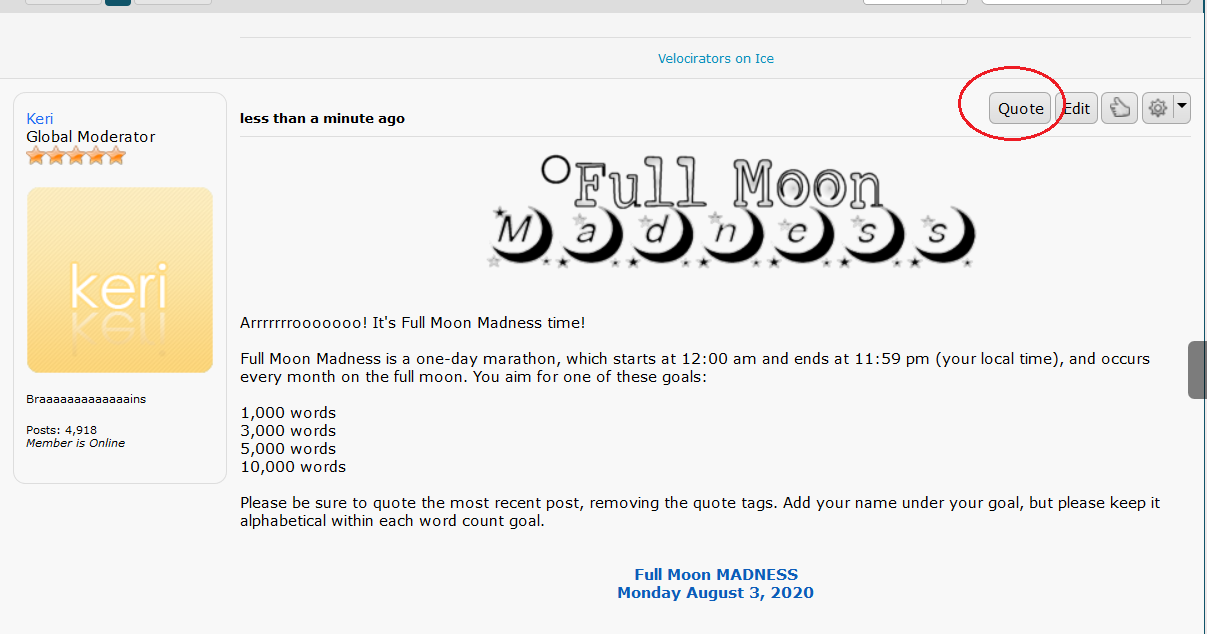 Step 2. Once you're in the Reply window, on the bottom of the text box there are two tabs. One is Preview, which is the default. The other is BBCode. Click on BBCode: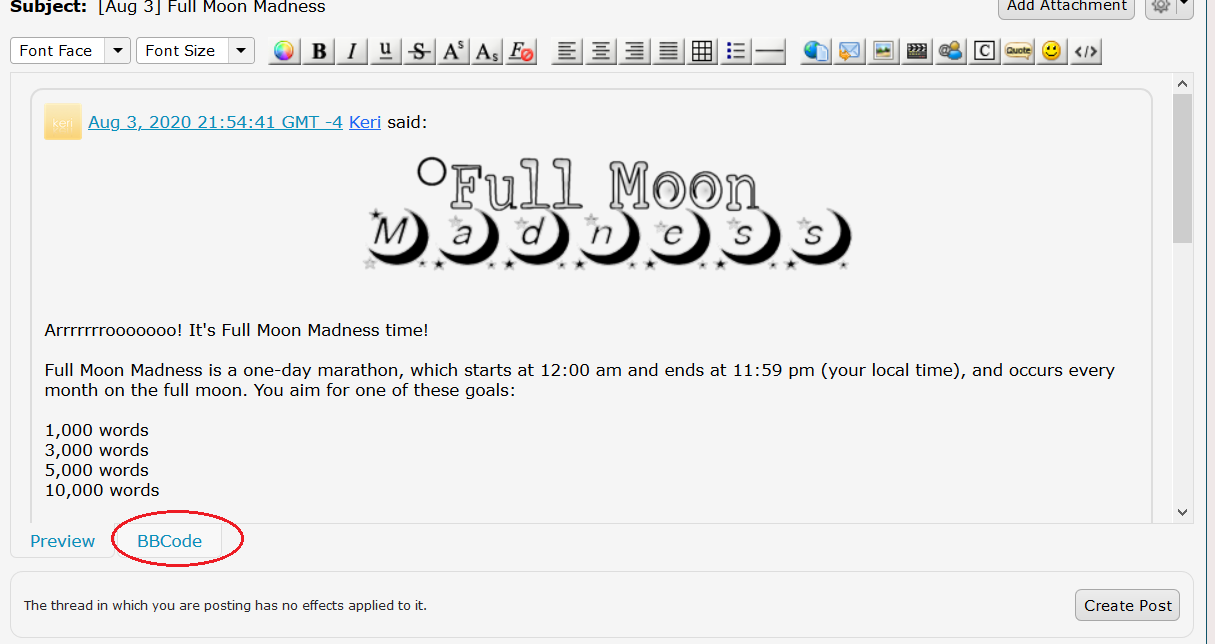 Step 3. That should bring you to a screen filled with brackets, essentially. You have to remove the quote tags (brackets that have the word "quote" inside). I've circled where they are below, but they are always the first and last tag: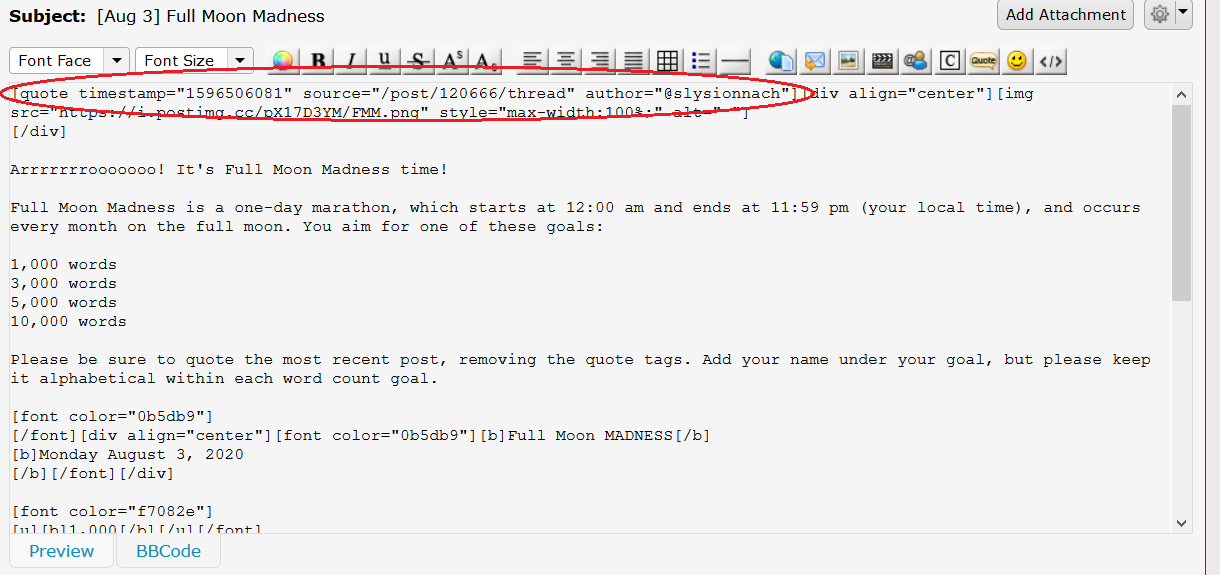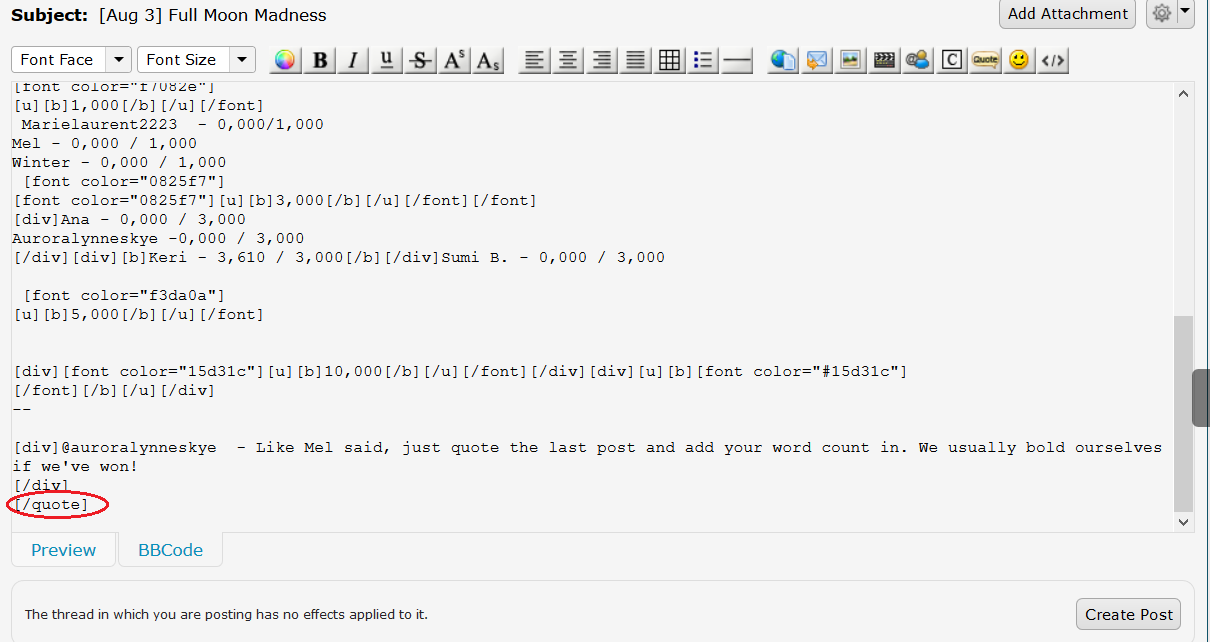 Step 4. You can stay in BBCode if you're comfortable with it, but I always suggest moving back to the Preview tab in order to make sure all color coding and images remain in place. Then just add yourself (or, if it is the end of the challenge, update your word count!) and hit "Create Post"!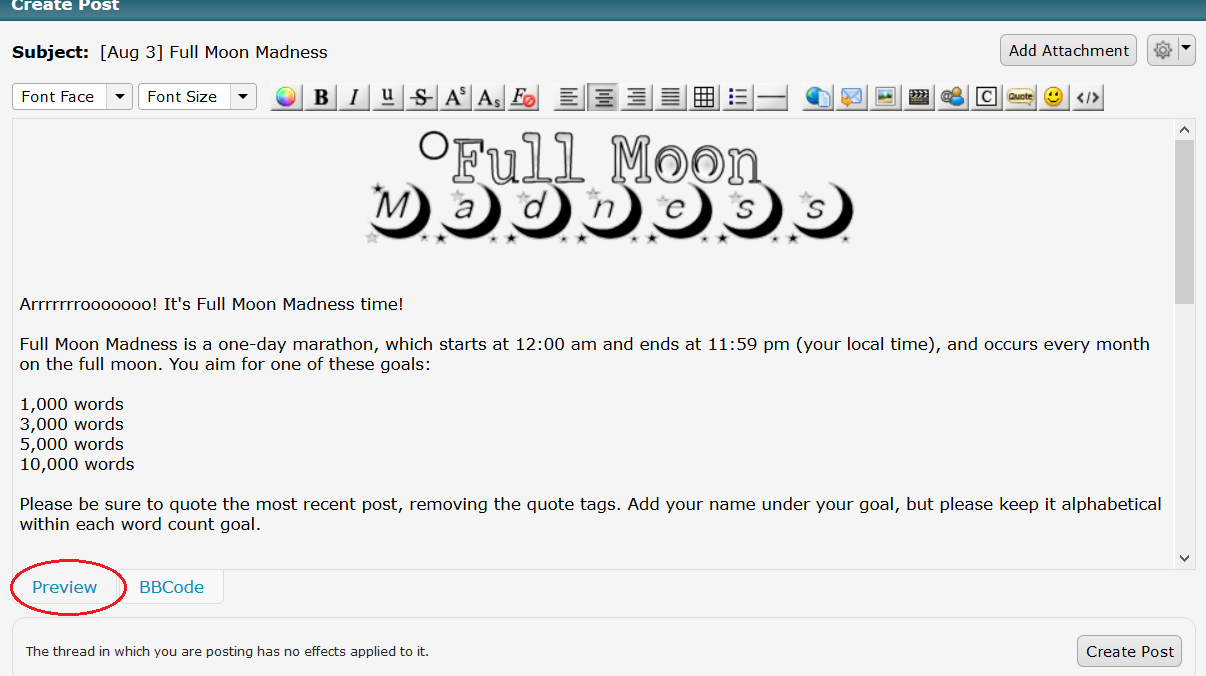 To Run a Challenge
:
If you would like to begin a challenge for any time period, please PM either
Roisin
or
Keri
and explain to her
exactly
what your challenge will be. She's going to compare your challenge to the ones already planned and double check there are no overlapping dates. We don't want there to be a million challenges popping up that overlap because that sort of defeats the purpose of the challenges. If both of those things clear, there's a post on the Sofa for all the mods to look at it and give approval one way or the other. Provided the majority say okay, it'll get the okay by us.
From there, Roisin or Keri will PM you back, saying that your challenge was either approved, or not. If the answer is no, a lot of times, there will be suggestions for changes to be made to the challenge in order to make it a thing that happens. After a few messages, you may find that something we once said no to, is approved! The next step will be the most tedious, but she will also include instructions in the approval PM with steps on how to proceed in making your challenge a reality.
The deadline for posting your challenge is
5-7 days
before the start of your challenge.
Sharing Codes via PM
:
In order to preserve your codes and keep everything in tact the way you'd like it to be, simply use the following tag --
[code]Your stuff here like normal[/c ode]
[Just without the space in the word. Amusingly, it won't let me share this code with this tag...]
Questions
?
Any questions? Post here and we shall clarify them the best that we can!