Post by galactic-pirates on Dec 21, 2020 3:22:30 GMT -5

I won't give up
No, I won't give in till I reach the end
And then I'll start again
No, I won't leave
I want to try everything
I want to try even though I could fail

(Shakira - Try Everything)
Everything's not awesome
Things can't be awesome all of the time
It's an unrealistic expectation
But that doesn't mean we shouldn't try
To make everything awesome
In a less idealistic kind of way
We should maybe aim for not bad
'Cause not bad, well that would be real great
(Lego Movie 2 - Everything's Not Awesome)

(only listing active projects this year)
Title:
Carbon Scars (#1 Macklan Stone)
Genre:
Sci-Fi Thriller
Status:
First Draft
Word Count Goal:
75,000
Summary:
Macklan Stone, mercenary, is working alongside her girlfriend as a private investigator. One day Mack goes home to find a fixer. If Mack doesn't do the job he wants then Ailith is dead. In order to protect Ailith Mack walks away but a few months later is forced to return to save Ailith from a killer. Interrogating him the killer says it was revenge because Mack refused the job. Incensed Mack sets out to destroy the company responsible. She gets the CEO arrested for embezzlement, and then visits his son to draw a line, only to be forced to run as she's accused of murdering the CEO. Now, Mack has to try and clear her name, easier said than done in a world where professionals are hired remotely and it's never clear who is responsible.
Title: Shadow Play
Genre: Fanfic (Sanctuary)
Status: First Draft
Summary: Colouring in between the lines of season four. Helen took a 113 year jaunt to the past. We saw how it began in Tempus but what happened next? What did she do for 113 years to prepare? How did this play out in the missing moments between the episodes. Fix-it, everybody lives, I'm bringing my ship back to life dammit.
Title: Time Will Tell
Genre: Fanfic (Sanctuary)
Status: First Draft
Summary: Nobody knows how it happened but for as long as there have been records, people have been born with soulmarks on their arm. The timer counts down the years, days, hours and minutes until you meet your soulmate. However, fate doesn't guarentee a happy ending. Real love is hard and takes work. Plus the reality of society often makes the timers irrelevant. There is always gossip about inappropriate matches; someone of status whose timer hit zero when they met the new maid, but there were sometimes other stories. Whispers about matches between two men, or two women, and even the shocking deviance of more than one timer. In the mid-19th century three children are born with two timers, a rare trio match, are they doomed before they even begin?
Title: Gentlemen of Blood
Genre: Fanfic (Sanctuary)
Status: First Draft
Summary: In 1909 the PM called The Five together, reuniting them as a group for the first time since Whitechapel. Adam Worth, the inspiration for Jekyll and Hyde, and possibly even Moriarty, has become a very grave threat. The PM wants The Five to save London, and Worth to die, but the problem is Worth has people everywhere. With the PM bleeding on the floor of Helen's parlour, what's a group of abnormals to do?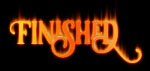 (as in completed drafts, revision is still a thing, see status)
Title:
Choosing Fate
Genre:
Fanfic (Sanctuary)
Status:
Posted on AO3
Summary:
Youngest son Gregory Magnus trained as a doctor, intending to make his own way in life, never expecting to inherit his father's title. However, an accident makes him a Baron thus changing the life of his only daughter forever. Arranged marriages don't exist outside of royalty but nothing says that a couple can't be 'introduced' to one another. Desperate to secure Helen's future Gregory accepts one such introduction with the nephew of a fellow Baron - Doctor James Watson. Helen accepts the match and still as veritable strangers they marry. When she moves into his home she finds that James' old school friend John Druitt has bachelor's quarters in the house. Soon she starts to believe two things are true: James married her to hide his 'deviant' relationship with John, and that she is growing to care for John as much as she is growing to care for James.
Title: Out of the Shadows
Genre: Fanfic (Sanctuary)
Status: Posted on AO3
Summary: Massive explosions have ripped through the calderas in Chile, Indonesia and Russia. Abnormals are pouring out of Hollow Earth. It looks like an invasion. Will Zimmerman, and Henry Foss, are conferencing with the UN but the military is about to take control. Without Helen Magnus to argue the case for the Sanctuary network the situation looks desperate. But then like an answer to their prayers, reinforcements arrive, but not who they were expecting. Doctor James Watson strides into the Sanctuary concourse with information as unexpected as his arrival.
Title: The Fall of Camelot (Working Title)
Genre: Fantasy
Status: Revising
Word Count: 52,997 (First Draft)
Summary: Camelot is in mourning. Merlin is dead. The shining kingdom has lost a beacon of stability. Then the holy grail (immortality artifact is found) and the knights all use it and become immortal. Lancelot teams up with Morgana and civil war breaks out. Rivers of blood, skies of fire - it's bad. Then Mordred finds a ritual to lock magic away but it carries a high price.
Title: The Tragic Tail (MerMay)
Genre: Fanfic (Sanctuary)
Status: Waiting for illustration
Summary: In 1912 Helen took an ill-fated trip on the Titanic. Otherwise known as the 'when Helen met Sally' fic.
Title:
and the Guardian's Dilemma
Genre:
Fanfic (The Librarians)
Status:
Posted on AO3
Summary:
For The Librarian's Prompt Month. Flynn was gone - fact. The library needed a librarian to tether with - fact. Eve was no stranger to making the hard call but this decision would have ramifications for centuries. They'd always been a team up until now and whomever she picked would be elevated above the others. It didn't feel right, it should have been Flynn, but Flynn was gone. Cassandra, Stone or Ezekiel? It was an impossible decision but one she had to make. She had to choose one of them - it was the Guardian's Dilemma.
Title: and the Outsiders
Genre: Fanfic (The Librarians)
Status: Posted on AO3
Summary: For The Librarian's Prompt Month. Flynn told Cassandra her life was in danger, and that he was the librarian, and then he flew off to Geneva. Eve flew to Oklahoma. Cassandra, confused, alone, is approached by Lamia. Lamia shares her dream of a magical world, and her origin story, and they find they have a surprising amount in common.
Title: and the Brighter Side of Life
Genre: Fanfic (The Librarians)
Status: Posted on AO3
Summary: For The Librarian's Prompt Month. When Eve takes Flynn home, to meet her parents, she realises with dawning horror that he's the first serious boyfriend they've ever met. The secrets of the library mean her parents know so little about her life, and her new status as an immortal threatens to create a gulf between them. But for now she still has her parents, and it seems if her mom has anything to say about it, the entire annex has gained her parents too.
Title: and the Inevitable Conflict
Genre: Fanfic (The Librarians)
Status: Waiting until posting day (July 26th)
Summary: For The Librarian's Prompt Month. In order to be permanently defeated Apep needed to be fought in the library. However, doing so when the library was full of apocalyptic artifacts was just asking for an apocalypse. So Eve and Flynn hatched a plan and DOSA took the library. However, when the dust settled, Rockwell refuses to admit they are out of their depth and orders the library to shut down. Political leaders change but the library endures.
Title:
and the Moment of Consequence
Genre:
Fanfic (The Librarians)
Status:
Posted on AO3
Summary:
For The Librarian's Prompt Month. In one reality Eve bitterly accepted that Flynn had left and events played out, until the library was nearly lost. In another, Eve wanted to wring Flynn's neck so badly, she learned he was in trouble much earlier. Working for the library it was easy to fall into fairytale type thinking; fairytales never showed consequences but real life was full of them. Just a single moment can shape the future.
Title: Life Without Purpose
Genre: Fanfic (Sanctuary)
Status: Waiting for Graphics
Summary: Helen was dead. The Five had whittled down to two and John was never meant to have been the one who survived.

Title: and the Sins of Atlantis
Genre: Fanfic (The Librarians / Sanctuary / Stargate)
Status: Posted on AO3
Summary: For The Librarian's Prompt Month. In 1923 oddities are reported near Caerleon in Wales, attracting the attention of the then librarian and guardian - James Watson and Helen Magnus. Accompanied by Nikola Tesla they are caught by the anomaly and find themselves in 2018. Working with the current team of librarians, it seems the situation will soon be resolved, but with magic it's rarely that easy especially when Jenkins is hiding something. When closing the time tear, the world spins away and everyone involved finds themselves in a world they don't recognise, one controlled by the Lake. A reality where the Ripper never existed, and lovers never died, hard choices have to be made. With only a day before this new reality becomes permanent, the librarians seek the aid of faces old and new, including some former enemies, as they battle the Lake, and their own desires, in order to retake the library.

Runaway Tales

Finish What You Start

| | |
| --- | --- |
| Stories Started | 15 |
| Stories Finished | 11 |
| Stories Remaining | 4 |