Post by WriYe on Dec 20, 2020 21:20:09 GMT -5
General Event FAQs
Is this like National Novel Writing Month?
We're like a super-long NaNoWriMo, just unofficially awesome and a spin-off. We're more lenient than the strict 50k/30 days. For WriYe, you pick your writing goal for the whole year (starting at 50k and going as high as you'd like). New novels? Not the only thing that counts. Screenplays, co-written novels, finishing that novel you started back in 1997, and even your school work counts here.
Who is eligible to participate?
Everyone! We are very proud to be an international event! The only catch here is that Proboards requires you to be 13 years of age or older to have an account on the boards.
Are non-English novels okay?
Of course! You can write in any language you'd like. Any language that you feel comfortable -- or are just plain interested -- in writing in is fine by us.
When can I sign up?
You can sign up year-round, since the yearly goal is what determines a winner! All of the words you've written this year count -- even words prior to you joining the boards -- so long as you've kept track and they were written during this calendar year. Signups for the new year happen in December.
Is there an entry fee?
No! Participation in WriYe is 100% free, all the time!
How do I sign up?
First, register at the forums. Then, decide on your word count goal, and locate the relevant sign up thread, here. Post your goal and you're all signed up! Kapow! You're an official WriYe participant!
I'm going to forget about this in a month! How can I get reminders about participating?
You're in luck! We have a
twitter account
, a
facebook page
, a
website
, and we have monthly newsletters as well. To opt in, or out, of receiving these messages in your inbox every month, make sure you have the correct option picked in your profile!
Does WriYe have a chat room?
We do! It's hosted on Discord and to join click
here
.
Goals FAQs
How do I pick a goal?
That's up to you. Some people sit down and plan out how much they're going to write each month, add the total, and then declare that. Some people decide they want to write so much over the course of the year, divide that by twelve, and that's their goal. Some people pick a random number out of the air and use that. Your goal is personal to you and can be chosen however you desire.
Can I change my goal, or am I stuck with the first one I choose?
We know that things change and Real Life is inevitably going to happen, or maybe it's just that your WC-eyes were bigger than your WC-stomach and you were a little over ambitious when it came to giving yourself a goal for the year. No matter what the case, if you're unhappy with your current goal, feel free to change it up until 01 December 2023. After this date, it seems a little too convenient to allow people to change...
How do I change my goal?
To change your goal, simply comment in the appropriate sign-up post. If you will be changing clubs, be sure to notify both the club you are leaving and the club you are joining.
What if my goal falls along one of the perimeter numbers? Which do I sign up for?
If you are declaring a goal that is one of the numbers we use to break the sign up threads apart, you can post in either! We do ask that you choose one or the other, however, rather than signing up for both. For example, a goal of 250k would belong in both the 50k-250k thread AND the 250k-500k thread. Please pick which you would like to join and sign up there.
I'm writing a different amount every month... How do I show that in my goal?
You don't. We look at the big picture and percentages here more than anything. If you know you're going to write 50k in January, 20k in February, and 74.5k in March, that's great! Reflect that in your records and celebrate when you hit your personal goal. Unfortunately, at the end of March, we're all still looking at being 25% done with our goals because 25% of the year has gone by. Whether you are or aren't does not in any way change how you are able to participate on the boards, however.
Specific Event FAQs
When and how do I start writing?
You begin writing at 12:00:01 AM (your local time) on 01 January. As for how... That's up to you. Open your favorite word processor and type away!
How do I sign up for a challenge? (A visual guide)
If you find one of our challenges appealing and want to officially join in, we have the guidelines of quote the last post, remove the quote tags, and add yourself alphabetically. That's been our holdover since before ProBoards had a more user-friendly interface, and now that the default doesn't show the BBCode, I have come to realize it might be a little more confusing for new members (or returning members)!

So here is something that I thought might help out:
Step 1. Scroll to the bottom of the thread that you wish to add yourself on to (and make sure you're on the last page as well!). Find the "Quote" button as displayed below: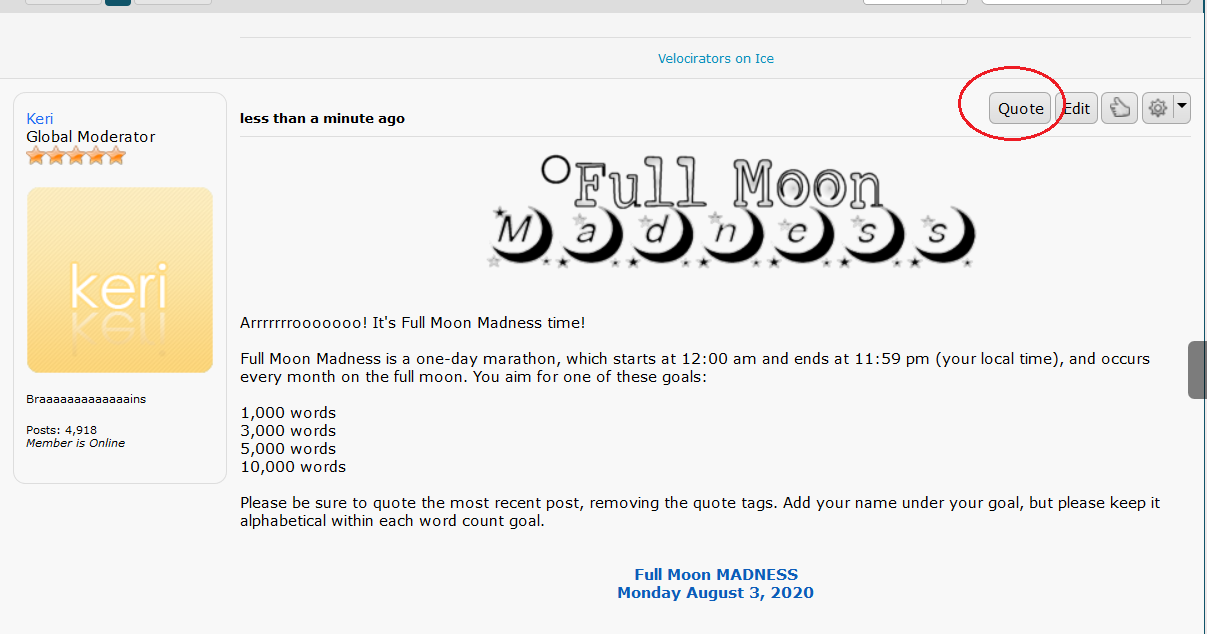 Step 2. Once you're in the Reply window, on the bottom of the text box there are two tabs. One is Preview, which is the default. The other is BBCode. Click on BBCode: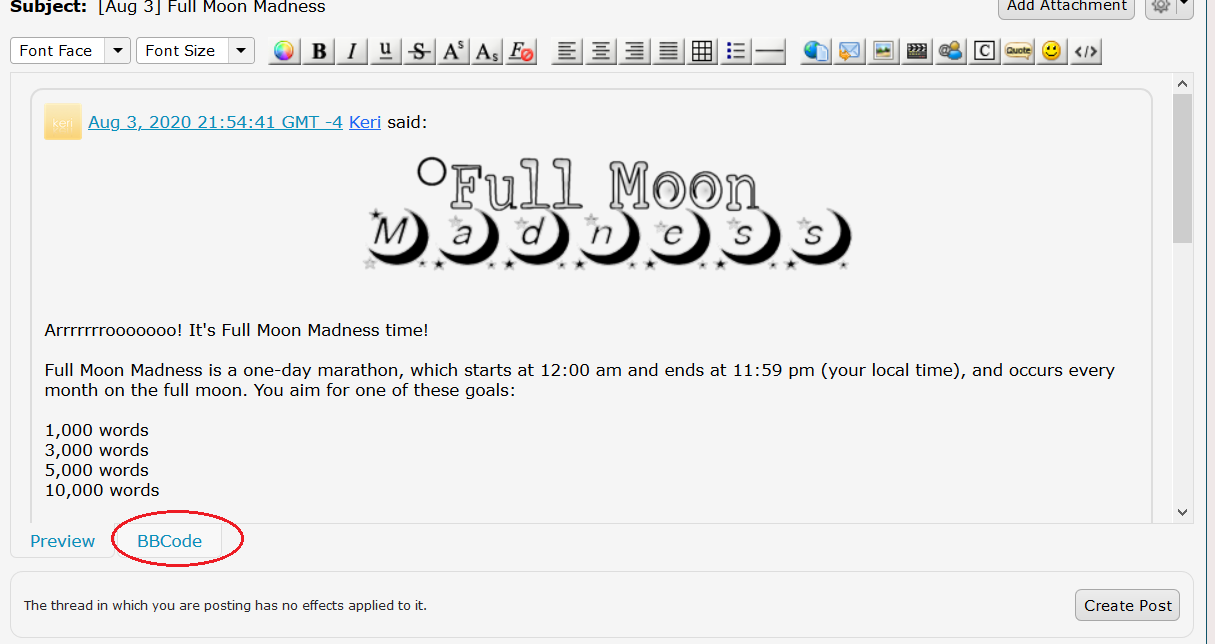 Step 3. That should bring you to a screen filled with brackets, essentially. You have to remove the quote tags (brackets that have the word "quote" inside). I've circled where they are below, but they are always the first and last tag: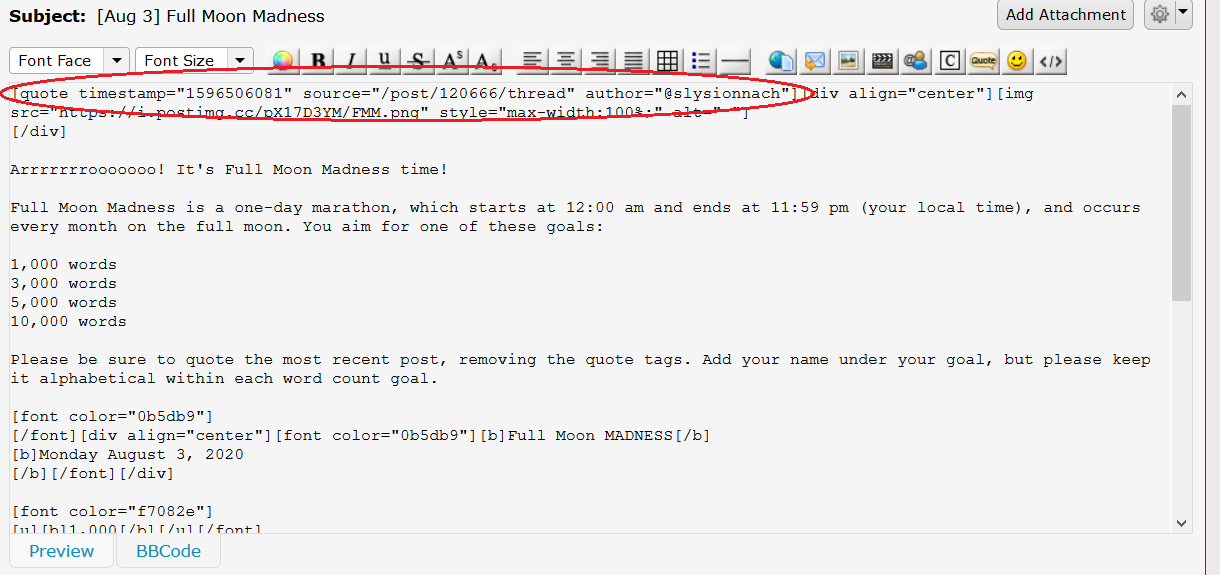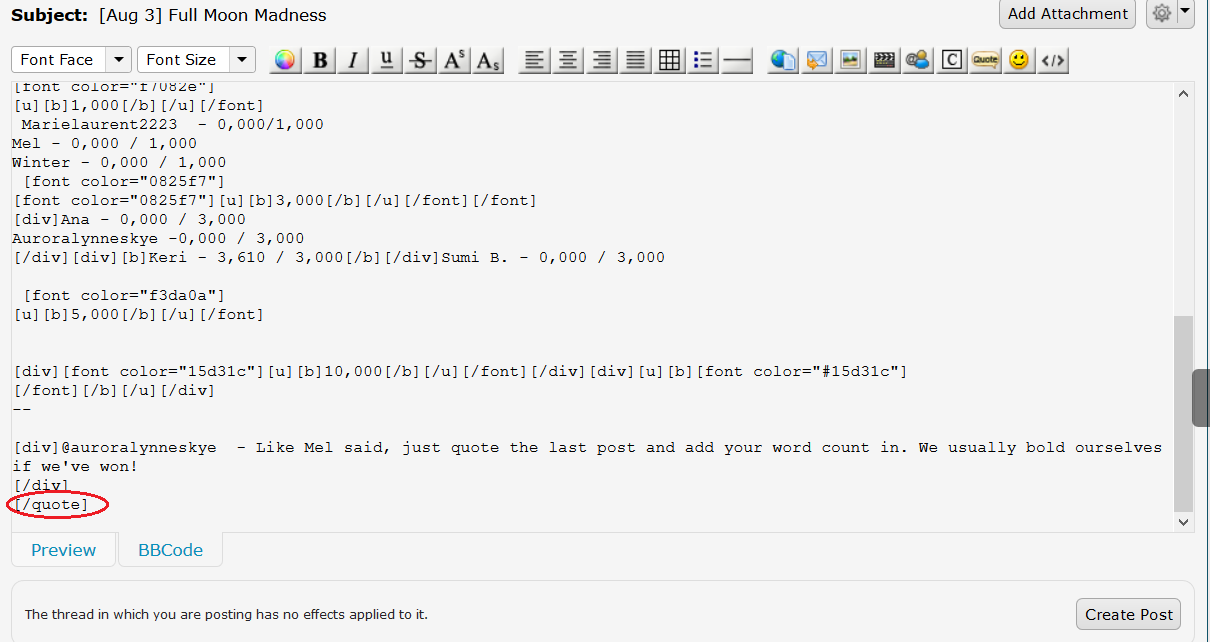 Step 4. You can stay in BBCode if you're comfortable with it, but I always suggest moving back to the Preview tab in order to make sure all color coding and images remain in place. Then just add yourself (or, if it is the end of the challenge, update your word count!) and hit "Create Post"!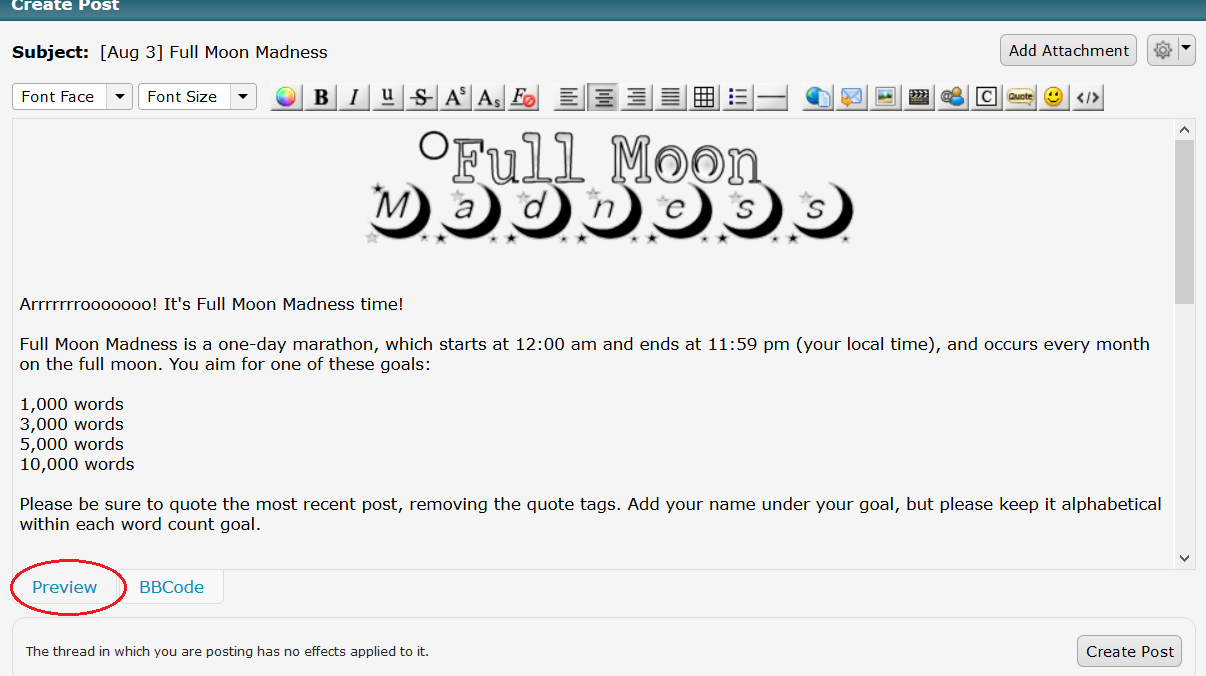 Do I have to write my novel on your site?
No! In fact, we encourage you not to. The forums are not a reliable place to keep your only copy of fiction. We all have horror stories of losing work; don't let this be your addition.
Do I have to start my novel from scratch on January 1? Can I use an outline?
No, you don't have to start from scratch at all. There's even a special section of the forums specifically for Works in Progress (WiPs)! Outlines and plot notes are very much encouraged, and can be started months ahead of the actual novel-writing adventure. Planning also has its own forum, AND counts in your word count for the year.
Can we work on more than one novel?
Yes. Your total word count can, and most likely will, consist of several novels and short stories. In fact, it's encouraged that you focus on more than one thing during the course of the year.
What exactly is allowed?
Please see
this post
.
Can I co-write my novel with someone?
Yes. But you're only allowed include the words that
you
wrote in your word count.
Can I start early / work on a work-in-progress?
Yes, but all words written before January 1st don't count towards your goal.
I'm participating in another writing group. Can the novel / short story I write for that be part of my word count?
Yes! (Unless the director of the other group has objections, of course.) Likewise, if you are doing a challenge, make sure to add it to our challenges board, after reading the rules over there!
Where do I post / share my writing?
If you wish to share your fiction, you can share it in one of two places: an excerpt in the
Read Me, Feed Me
section of the forums or in your personal threads. PM
Roisin
for access to the RMFM section.
How do you win WriYe and what are the prizes?
The way to win WriYe is by completing your word count goal by midnight on December 31. Every year, there are many, many winners. There are no "Best Novel" or "Quickest-Written Novel" awards given out. However, there will be mini-competitions and events throughout the year.
And isn't the warm feeling of knowing that you've written some good words a prize enough? No? Darn.
Are the novels going to be verified or are we going on an honor system?
We moved to an honor system.
Is there going to be a 'Winners' List?
Yes! We post statistics to our
website
. You will be immortalized forever in your efforts to meet your writing goals.
Are there going to be award icons?
Keri
makes the awesome badges and they will be awarded 5 to 7 after the end of an event.
Technical FAQs
I can't stay logged into the forums/I can't log out of the forums.
Try deleting your cookies. Then log back in. If that doesn't work, contact one of the mods or email us at officialwriye@gmail.com
How do I add an avatar?
First, you must have a picture that is sized to 150x150 pixels uploaded to a photo hosting site (the mods use post image). Take the direct link URL from that hosting site and plug it into the space in your profile that asks for your avatar. Viola! Picture for you!
How do I format my text?
Proboards (and most other forums) uses a type of coding language called BBCode. This is different than the HTML used in basic web design, but only slightly. If you want to know how to do something, please check google for a list of the codes to find the one you are looking for and then use it.
How do I do "x" in my signature?
See above answer about coding for most of your needs. However, if you make signature images, the only requirement is that your signature does not exceed 500 pixels wide or 300 pixels tall in total (as in, combining ALL graphics).
What about other images on the boards?
All other images can be as tall as you see fit, but still need to be no larger than 500 pixels wide.
Wait, you didn't answer my question!
Create a post in this forum with your question -- or reply to this thread -- and one of the mods will get to it ASAP. Please know that if it is a detailed question that we need to discuss before deciding on an answer, it may take some time before all of the mods have come to a general consensus. We are not ignoring your question; we're simply looking for the best possible answer.