Post by Arden Corvidae on Jan 3, 2021 13:56:25 GMT -5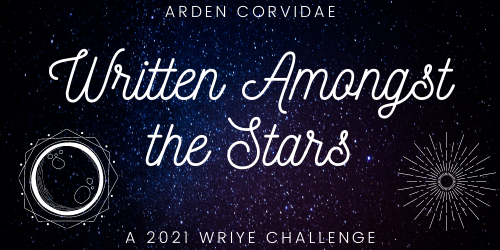 ---
It's 2021!! We finally made it through 2020! Hi everyone! My name is Arden Corvidae, but y'all can call me Arden or AJ. I'm a 27 year old non-binary dude that uses he/him and they/them pronouns if you please. This is my ninth year doing WriYe. (Wow where does time go? How has it been nine years??) I'm super excited to enter another year of writing and community!
Writing is a magical hobby and one of my very favorites. I am one of few writers I've met that chooses to purely write for myself. I have no intention of publishing my works or even posting them anywhere. I write purely for the joy of writing because it's something that I love to do. I love writing fantasy and sci-fi and I'm obsessed with post-apocalypses. I focus a lot on queer characters and writing stories with characters like me. (Finding masc-aligned non-binary protagonists is really hard y'all.) Trying to get me to keep fantasy and sci-fi separate is an exercise in futility, I like having technology AND magic. I probably spend more time world building than actually writing in the worlds I create because I absolutely love the feeling of creating universes. You'll probably see me in the Discord talking about my worlds and all the little things I do to build them. I just love world building.
In 2021 I am actually stepping up my goal from last year. Last year I had a goal of 300,000 words which I ended up going over by over 70,000 words. So this year I decided I needed to up my goal and this year I am going for 350,000. It's really amazing to sit here and look at that number and know that it's achievable. I've come so far since my first WriYe back in 2013 and that's such a magical feeling. In my first year of WriYe, my goal was only 50,000 words and now 8 years later I can easily write 300,000 words more in a year. That's some serious progress and I'm really proud of it. Hopefully this year I'll overshoot my goal again!
---

---
Writing Goals
Year Goal: 0,000 / 350,0000 words
Year Long Goals:
Luddite Challenge: 0/25 pages
Personal RaTs Challenge: 0/24 RaTs
Luck of the Draw: 0/52 Responses
Monthly Word Count Goals:
January: 0,000 / 26,667 words
February: 0,000 / 26,667 words
March: 0,000 / 26,667 words
April: 0,000 / 30,0000 words
May: 0,000 / 26,667 words
June: 0,000 / 26,667 words
July: 0,000 / 30,000 words
August: 0,000 / 26,667 words
September: 0,000 / 26,667 words
October: 0,000 / 26,667 words
November: 0,000 / 50,000 words
December: 0,000 / 26,667 words
Spiritual Goals


Daily Tarot Pull: 1 / 365
Complete the Course Pre-Req's for my Tarot Course: 0 / 4 classes
Celebrate the 4 Celestial Holidays: 0 / 4
Create a Course Plan for TMCS
Life Goals


Deep Clean My Apartment
Implement FlyLady Routines
Put my Health Front and Center
Pass 2 College Courses: 0 / 2
Implement an Exercise Routine
#ShavetheStash
Make Beautiful Things